We have been working very hard to release MyDLP 2.0 for more than three months. We used this time for considering community feedbacks, extensive testing, hardening features and improving user experience.
Here is a summary of pretty much what have been done:
New look and feel: Now MyDLP is a lot easier to use. It is hard to describe, you should just see it.
Easy removable storage encryption on endpoints without key management hassle ( Removable Storage Encyrption Screencast ).

It protects your data on USB drives and alike for loss and stealing.
It enforces usage of encrypted drives only for data created in company or data accessible through your corporate network.
It prevents virus malware infection through removable devices.

Ability to block mails with external BCC recipients: Now, MyDLP can selectively detect emails which have external BCC recipients and enforce policies. ( How to Log / Block Emails with external BCC Addresses )
Improved DLP policy screen and rule manipulation. ( Policy Implementation Basics )
Ability to use source domain address in mail rules: If you are managing multiple domains in your email server, now with MyDLP you will be able to define different policy for each easily.
Ability to use destination web domains in web rules: Now you can define different DLP policies for different web sites.
Ability to use directory paths as endpoint discovery targets in discovery rules.
On demand discovery: Schedule or stop discovery for any workstation at anytime you want.
Screenshot protection
HP ArcSight and Syslog integration. ( How to integrate MyDLP with HP ArcSight )
Mail integration with Seclore IRM.
Easy deployment MyDLP Endpoint Agent with Active Directory using readymade script on the MyDLP: Is AD integration and agent distribution over it too complicated? We have simplified it for you. ( Active Directory Integration How to Deploy MyDLP Endpoint Agent Automatically in a Microsoft Active Directory Domain )
MyDLP Endpoint Agent on MyDLP Network Server share is automatically updated.
Administrator mail notification for rules: You will immediately know when an incident occurs. You can assign different responsible for different rules or contexts. ( Email Notifications )
Custom user notifications for denied resources by web and mail rules: Now it is possible to send custom messages to your users with MyDLP Access Denied page. ( Custom User Denied Messages )
Offline log caching on endpoints: Endpoints will send logs to server when they are connected. You will know what happened even if your users are offline.
Predefined compliances: You need to analyze and meet compliance requirements? We have compiled it up for you. All you need to is some drag-n-drops.
Lots of security and performance improvements under the hood: MyDLP previously also had good performance, but now it rocks!
Some Screenshots:
Policy Screen
Logs Screen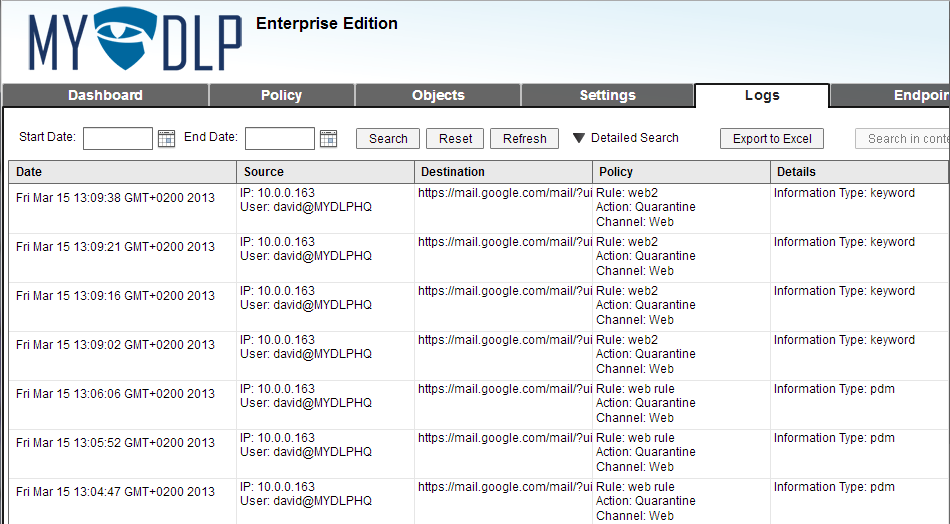 Share